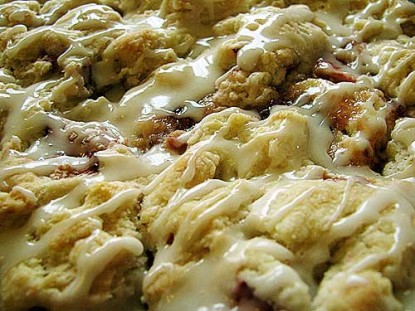 here
.
Difficulty: Easy
Servings: varies
Prep Time:
20 minutes
Cook Time:
25 minutes
Ingredients
2 cups all-purpose flour
2 teaspoons baking powder
1/3 cup sugar
1/4 teaspoon cream of tartar
1/4 teaspoon salt
1/2 cup shortening, butter, or lard
1 cup strawberries, chopped
2/3 cup milk
4 ounces cream cheese
4 ounces strawberry jam
Powdered Sugar Icing:
Combine 1/2 cup sifted powdered sugar, 1/4 teaspoon vanilla, and enough milk (one to two teaspoons) for drizzling consistency.
Directions
To use a baking mix, replace first 5 ingredients with 2 cups baking mix, adding a tablespoon of sugar.
Place first 5 ingredients (or 2 cups baking mix plus sugar) in a large bowl and cut in the shortening, butter, or lard with a pastry cutter. Mix in strawberries. Add milk.
Place dough on a floured surface. Sprinkle more flour on top and roll into an approximately 12 x 8 rectangle. Spread cream cheese down the center then top with jam. Make cuts, about an inch and a half apart, all along both long sides. Criss-cross cut strips of dough over the top. Pinch ends to seal.
Transfer to a greased baking or 13 x 9 casserole pan. (If you're planning to take this somewhere, you might want to use the casserole pan.) I use two big spatulas to move it.
Bake in a 375-degree oven for 25 minutes or till nicely browned. Add powdered sugar icing.
Make long, lovely slices. Perfect for breakfast, lunch, dinner, and midnight snacks. Don't tell anyone you made it and you can have the whole thing! Add some ice cream and it's even dessert. And it's delicious.
Note: This dough spreads out as it bakes, making one giant, sweet, delectable strawberries and cream coffee cake delight. If you don't want it to do that, roll the dough into an 8 x 8 square and transfer it to a bread pan for baking to retain a loaf shape. Me, I like the long, gorgeous coffee cake slices it makes in free-form, making it turn out more like a pastry.
Categories: Breads, Breakfast, Coffee Cake, Fruit Breads
Submitted by: suzanne-mcminn on July 25, 2010