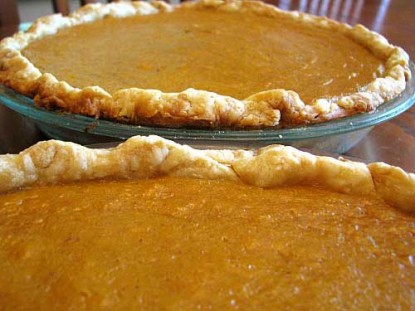 Difficulty: Easy
Servings: 8
Prep Time:
20 minutes
Cook Time:
1 hour
Ingredients
3 large sweet potatoes (about 1 pound)
1/2 cup butter, softened
1 cup sugar
1/2 cup milk
2 eggs
1/2 teaspoon nutmeg
1/2 teaspoon cinnamon
1 teaspoon vanilla
1 single-crust unbaked pie shell
Directions
Boil sweet potatoes in skins until very tender. Drain then slit the skins with a knife and they'll peel off very easily. Mash sweet potatoes with butter then use an electric mixer to blend well. Add sugar, milk, eggs, nutmeg, cinnamon, and vanilla. Use mixer to blend again. Pour sweet potato filling into unbaked pie shell. I like to sprinkle a little more nutmeg on top. It looks pretty, and I love nutmeg. Bake at 350-degrees (mostly on the lowest oven rack) for one hour or until a toothpick inserted in the center comes out clean. Cool and top slices with whipped cream.
See Foolproof Pie Crust.
Categories: Desserts, Entertaining, Fillings, Holiday, Kid-Friendly, Old-Fashioned, Pies, Potluck
Submitted by: suzanne-mcminn on July 29, 2010