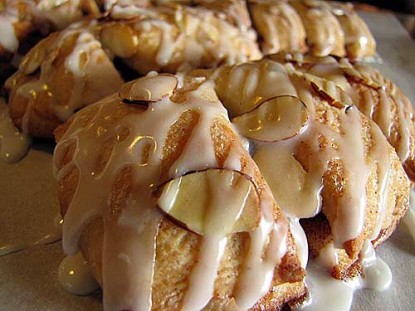 Bear Claws
!) using Grandmother Bread.
Difficulty: Intermediate
Servings: 1 recipe of dough
Prep Time:
a few hours, divided
Cook Time:
n/a
Ingredients
1 1/2 cups warm milk
1 teaspoon yeast
1/2 teaspoon salt
1/4 cup sugar
2/3 cup cold butter
4 – 4 1/2 cups flour
Directions
In a large bowl, combine warm milk, yeast, sugar, and salt. Let sit five minutes. Meanwhile, cut butter into one cup of the flour, using a pastry cutter or food processor until the flour/butter is like coarse crumbs.
Add to warm milk mixture, stirring with a spoon. (Do not beat with an electric mixer–you don't want to pulverize the butter at this point.) Add more flour a little at a time as needed, stirring until dough becomes too stiff to continue stirring easily. Add a little more flour and begin kneading. The amount of flour is approximate–your mileage may vary! Continue adding flour and kneading until the dough is smooth and elastic.
Using a floured rolling pin, roll out on a floured surface into a large rectangle (about 20 inches by 10 inches). Fold dough into thirds, wrap, and refrigerate for at least 1 1/2 hours or overnight (or freeze for 30 minutes if you're in a hurry). I just pack it up in the same piece of parchment paper I used for rolling.
Take dough out of refrigerator. Using a floured rolling pin again, roll dough out on a floured surface into a rectangle as described above. Fold, wrap, and chill dough again, this time for at least four hours or overnight–or longer. You can use the dough after four hours, refrigerate it for up to a week, or freeze it for later use. This is a great make-ahead special occasion dough, and can be used as the foundation of many different pastries.
Categories: Breads, Breakfast, Entertaining, Holiday, Pastries, Special Occasions, Yeast Breads
Submitted by: suzanne-mcminn on December 21, 2011