As I start a series here on Farm Bell Recipes spotlighting herbs, one at a time, I decided to begin with chives as they are one of the first herbs to go nuts in the garden each spring. My chives popped up weeks ago and already tried to bloom. A neat idea suggested by several people was to cut off the pinkish-lavender blooms, place them in white vinegar for a few weeks, to produce a pinkish and garlicky vinegar for salads. Wickedgoodshari described her method this way: "I put fresh chive blossoms in a jar/pretty bottle of white vinegar (maybe 1/3 to 1/2 full) and put it in the window. The flowers bleach out, the vinegar turns pink and then smells and tastes garlicky. You can take out the flowers, but it looks pretty with them in the bottle."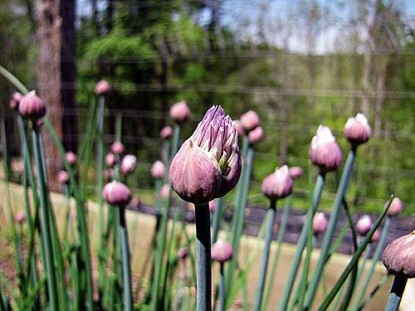 One idea leads to another, so that got me thinking about chive blossom jelly! (You would make it just like any flower jelly–see the basic recipe how-to here.) The blooms are edible, of course, so they could also simply be tossed on salads or used as decorative (and edible) garnishes for other dishes. Oh my! All the things you can do with chive blossoms! And we haven't even gotten to the actual chives!
Chives (Allium schoenoprasum L.) belong to the same family as onions, leeks, and garlic–and ramps! As would be expected from a plant in the same family with onions, they have an onion flavor, though they are milder than onions. Garlic chives have a more garlicky flavor (and produce white blossoms). Chives are easy to grow and will come back year after year. When harvesting, chop them down to two or three inches. They will grow back in no time! Chives grow in clumps and can be propagated by dividing the clumps. They are hardy, and will even grow in the winter. You can also grow them inside on a windowsill. They impart the same health benefits as other plants in the Allium family, including reducing the risk of cancer.
Native to Europe and Asia, chives weren't actively cultivated until the Middle Ages. The first documented use of chives come from the ancient Chinese, and Marco Polo–or the Romans–depending on the source–is credited with bringing chives to Europe. In any case, chives now grow wild all over the Northern Hemisphere, along with in practically every home garden as even the blackest-thumbed gardener would be sore-pressed to kill them!
When cooking with chives, if possible (depending on the recipe), add chives last and at the last minute to benefit from the full flavor, which is at its peak when raw.
To freeze chives, chop and place on a cookie sheet then put the sheet, uncovered, in the freezer. Once dry and frozen, transfer to a tightly-sealed container. They keep well in the freezer for six months or more. You can also dry in the dehydrator, though you will lose some flavor that way. Chives are best used fresh or stored frozen.
See all the blog posts in Herbs & Spices.



Do you have a recipe post or kitchen-related story to share on the Farm Bell blog? See Farm Bell Blog Submissions for information and to submit a post.

Want to subscribe to the Farm Bell blog? Go here.