I have a terrible habit of turning on my dutch oven to dry on the stove and walking away, which has twice cracked the enamel coatings. After the second time I decided it was time to lose the enamel – I bought a double dutch from Amazon… cast iron, no coating, and a lid that could be flipped over to be used as a skillet. While reading the reviews I found someone talking about baking bread in it upside down! I'd had my oven for awhile before I decided to go back to that review and see if I could really understand it. My first loaf was a Classic Walnut Boule I found online, and it was wonderful. It called for a tablespoon of walnut oil and chopped toasted walnuts. After making that I wondered if I could change out to olive oil and olives to make olive bread…
Chewy Olive Bread:
1 packet (2 1/4 teaspoons) yeast
1 cup warm water
3 tablespoons sugar
1 tablespoon of olive oil (I've used plain and seasoned olive oil – both work)
3 cups bread flour (14.25 oz)*
1 1/2 teaspoons salt
1/4 cup kalamata olives, pressed as dry as possible
Place yeast, water and sugar into a large metal bowl and allow to sit for 5-10 minutes until foamy. Add oil, flour, and salt.
Stir with a spoon or dough whisk until thoroughly mixed.
Remove from bowl onto floured surface and knead, adding bread flour if needed one tablespoon at a time, for about 5 minutes. Place back into a metal bowl that has been oiled, cover with a towel and allow to rise for one hour. It's done rising when you can press two fingers into the dough and they leave an imprint. Dry out about 1/4 cup of kalamata olives by straining and then pressing in a paper towel.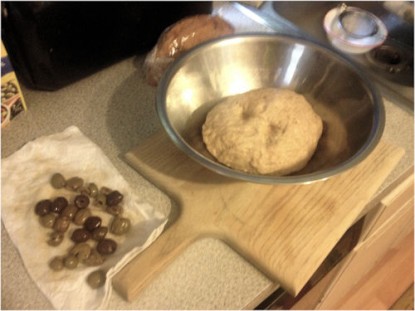 Remove the dough and place on a flour covered surface. Placing the olives a few at a time onto the dough, fold the dough and gently use a kneading motion to work the olives in. After each few folds, add more olives.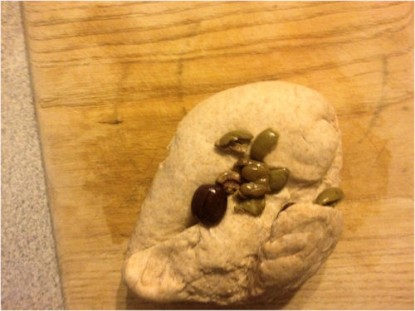 They will be wet, and the dough will not want to stick once it's wet so you may occasionally have to pinch the dough to close seams as you knead.
Once you have just a few olives left shape the dough into a "boule" and pull open small holes in the top to insert olives in, pinching the dough to close back over them. If you're using a double dutch oven like mine, liberally spray the inside of the lid with spray oil and sprinkle corn meal. Place the dough onto the cornmeal and cover with the larger body of the dutch oven placed upside down on the lid. Allow to rise another 45 minutes. If you don't have the double dutch, place the dough on what you plan to bake on, like parchment paper or silpat, sprinkled with cornmeal, and cover with a towel for the 2nd rise.
(Image is misleading – I forgot the corn meal. When it was done I lifted it out and added the meal.)
If you have a pizza or baking stone place it in your oven and preheat the oven to 350 degrees.
After 45 minutes, open the dutch oven, brush dough with egg white, and cut slits into the top of the bread.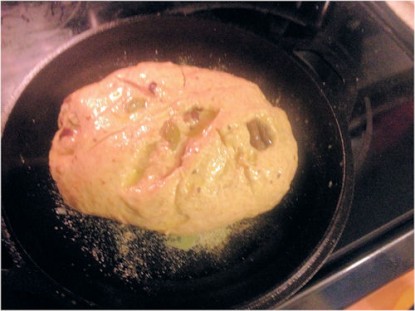 Cover again and place in the oven on top of the stone to bake for 15-20 minutes at 350 degrees. Remove the body of the dutch oven (which is acting as the "lid") and brown for 15-20 minutes more, to your liking, turning once for even browning.
Remove from oven and allow to cool on a wire rack. Slice, and enjoy a fantastic roast beef sandwich on olive bread!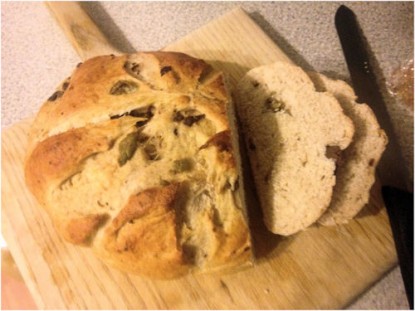 There are lots of changes that can be made to this bread recipe.
Original walnut oil/walnut bread: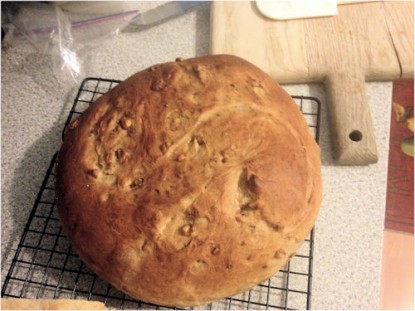 A great way to make a white bread with this recipe is to use the walnut oil, but no walnuts – it makes a wonderfully chewy and slightly sweet bread that is great for toast and sandwiches.
You can make it healthier by changing one cup of the bread flour to one cup of wheat flour (which follows the original recipe). Today I made a loaf of the bread and used canola oil with no add-in. I then made a loaf of Rye bread, and swirled the two together. I baked directly on my stone with parchment paper and no cover and had a wonderful crunchy crust. With the leftover dough that I had from the white dough recipe I rolled small pieces out then put in smoked turkey and thin slices of asiago with a mixture of spices sprinkled on top. I rolled these up, egg-washed them, and sprinkled them with sesame seeds – excellent!
Happy baking!
*Actual weight of flour seems to fluctuate on where you look for it. This recipe calls one cup of flour or 4.75 oz, and it works well.
Get the handy printable and save it to your recipe box:
Chewy Olive Boule