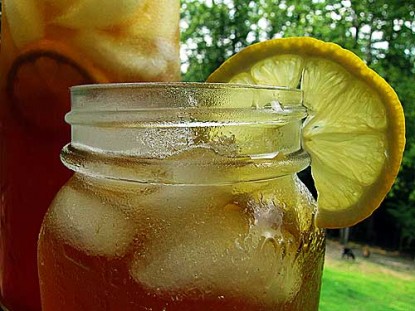 It's summertime and the living is….HOT!!! I don't know about where you are, but here in West Virginia we have had a hot spring and it's looking to be a hot summer on top of it. I'm ready for ice cold drinks. You? I came up with this one yesterday, and I'm planning on keeping the fridge stocked with this and anything else ice cold all summer.
How to make Spiced Peach Sun Tea:
1 cup water
1 cup sugar
1/2 cup sliced, crushed peaches
water
tea bags
1 broken cinnamon sticks
several whole cloves
Make a syrup of water, sugar and sliced, crushed peaches in a small pot; boil on high until the sugar is dissolved. Let syrup cool then strain liquid to remove peaches. Meanwhile, prepare sun tea by adding several tea bags (depending on strength desired) to 1/2 gallon water. Place broken cinnamon sticks and cloves in a spice ball (or tie up a small cheesecloth bag) and place in the water with the tea bags along with the peach syrup. When sun tea is ready, remove the spice ball. Chill and pour over ice. Garnish with sliced lemons if desired.
Makes 1/2 gallon of spiced peach tea. (Recipe can be easily doubled, tripled, and so on.)
See the printable recipe and save it to your recipe box.
More ice cold summer drinks at Farm Bell Recipes:

Jamaica Iced Tea
Lemon Fizz
Lime Slush
Mint Julep
Peach Iced Tea
Strawberry Lemonade
Summertime Homemade Lemonade
Sweetened Lime Iced Tea
The Best Sangria You'll Ever Drink!
Tipsy Strawberry Watermelon Pops
Watermelon Lemonade
What's your favorite ice cold summertime drink? Got one to share? (Submit your recipe. Have mercy. I'm HOT!)

Interested in contributing a guest post to the Farm Bell blog? Read information here for Farm Bell blog submissions.

Want to subscribe to the Farm Bell blog? Go here.