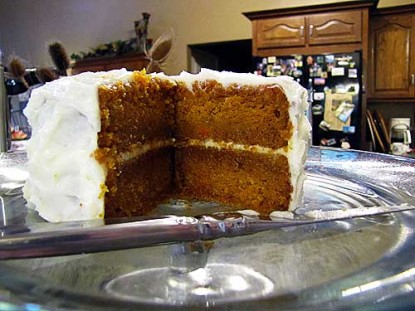 Difficulty: Easy
Servings: 12
Prep Time:
20 minutes
Cook Time:
30-35 minutes
Ingredients
2 cups all-purpose flour
2 cups sugar
1 teaspoon baking powder
1 teaspoon baking soda
1 teaspoon ground cinnamon
1 teaspoon ground cloves
3 cups finely shredded carrot
1 cup vegetable oil
4 eggs
1/2 cup cooked grits
Directions
Combine all ingredients in a large bowl and beat well with an electric mixer. Transfer to greased and floured baking pans. Bake at 350-degrees for 30-35 minutes for 8- or 9-inch cake rounds.
Can add half a cup (each) of nuts and/or raisins, if desired. Cut the recipe in half to bake in an 8-inch square pan or in smaller round pans. (I use 6-inch cake rounds with half the recipe for a small layer cake.)
Best with cream cheese frosting!
Submitted by: suzanne-mcminn on May 9, 2011