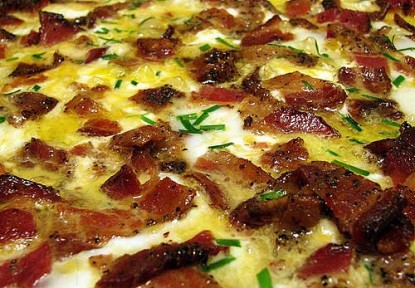 Difficulty: Easy
Servings: many
Prep Time:
30 minutes
Cook Time:
1 hour
Ingredients
12 slices bacon, cooked and crumbled
4 cups cubed bread
1/2 cup butter, melted
2 cups cheese, grated
8 eggs
1 1/2 cups milk
1/2 cup sour cream
salt and pepper to taste
additions, to taste (other chopped veggies etc)
Directions
Cook and crumble bacon; set aside. Cube bread. Grease a 9 × 13 pan. I cut big cubes, and that makes a difference in what fills up a cup. Also, I use thick-sliced homemade. If you're using a different sort of bread, it might be different for you, so adjust accordingly. You want the bread to loosely cover the bottom of a 9 × 13 pan.
Melt butter (or margerine) and pour over the bread cubes in the pan. Toss with shredded cheese. I use a Mexican Fiesta blend. Use whatever cheese you like. Whisk eggs, milk, and sour cream.
If you're adding sauteed vegetables, add them to the eggs, milk, and sour cream after you've whisked them. Add salt and pepper if you like. I use peppered bacon. Bacon is pretty salty, and it's peppered, so I don't add anything at this point.
Pour mixture evenly over bread cubes and cheese.
Sprinkle bacon (or whatever) over the top of the casserole. I like to toss chives over it, too. Cover with foil. You can cook this right away, or let it sit in the fridge overnight. Bake at 325-degrees, covered, for 45 minutes. Remove cover and bake another 15 minutes.
Categories: Breakfast, Casserole, Egg Dishes, Entertaining, Holiday
Submitted by: suzanne-mcminn on July 23, 2010