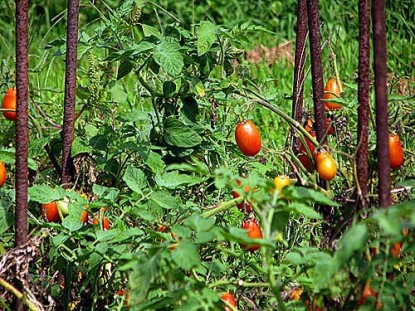 Difficulty: Easy
Servings: 4 quarts
Prep Time:
1 hour
Cook Time:
1 hour 25 minutes
Ingredients
12 pounds Roma tomatoes
4 bulbs garlic
1/4 cup extra-virgin olive oil
1 1/2 cups chopped onion
1 tablespoon minced fresh oregano
1 teaspoon salt
1/2 teaspoon coarsely ground pepper
bottled lemon juice
Directions
Roast tomatoes on grill or in broiler until skins begin to wrinkle and become lightly blackened in spots, turning to roast evenly on all sides. Remove from heat. Place roasted tomatoes in a paper bag and close tightly. Cool until tomatoes are easy to handle, about 15 minutes. Slip skins off tomatoes, cut in half, and remove seeds. Cut into 1/2-inch chunks; set aside. Place garlic on aluminum foil and drizzle olive oil over garlic. Wrap foil around garlic, sealing edges tightly. Roast garlic at 350-degrees until tender, about 30 minutes. Cool garlic until easy to handle. Separate cloves of garlic and remove papery skins. Add garlic to tomatoes. Stir in remaining ingredients and cook over medium heat until hot throughout. Add 2 tablespoons bottled lemon juice to each quart jar. Ladle hot tomatoes into hot jars, leaving 1/2-inch headspace. Remove air bubbles. Adjust two-piece caps. BWB quarts 1 hour 25 minutes.
UPDATE: I've made this recipe now. It's great, but–DO NOT place the hot-off-the-grill tomatoes in paper bags without support under the bags or the bottoms of the bags will fall out, along with your tomatoes! I ended up placing the roasted tomatoes in a large stainless steel bowl and covering with foil instead.
Categories: Boiling Water Bath, BWB Tomatoes & Combos, Canning, Gourmet, Preserving
Submitted by: suzanne-mcminn on May 9, 2011