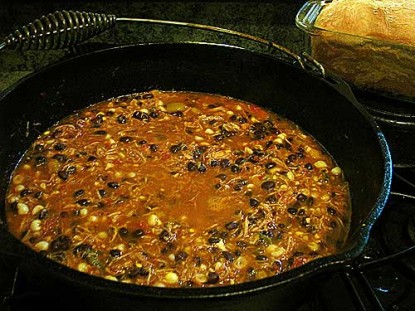 Difficulty: Easy
Servings: varies
Prep Time:
10 minutes
Cook Time:
all day simmer
Ingredients
5 cups black beans, cooked
2 cups chicken, cooked and shredded
2 cups fresh or thawed frozen corn kernels
1 cup sliced bell peppers
1 quart canned tomatoes
4 teaspoons chipotle chili powder
2 tablespoons minced dried onions
2 tablespoon crushed red pepper flakes
1 tablespoon seasoned salt
1 teaspoon garlic powder
4 teaspoons lime juice
Directions
Put everything in a big pot and heat it up. You'll need some additional liquid to make the stew. I included all the liquid from the quart of tomatoes. I also included a small amount of cooking liquid from the beans, but not much, maybe about a cup. I added about 6 cups of water. This doesn't have to be exact, just add enough liquid to get to a stew-like consistency.
I used a big cast iron kettle. You could also simmer this all day in a crock pot.
Categories: Beans, Crock Pot, Main Dish, One Dish Meal, Other Soups & Stews, Poultry, Soups & Stews
Submitted by: suzanne-mcminn on August 2, 2010