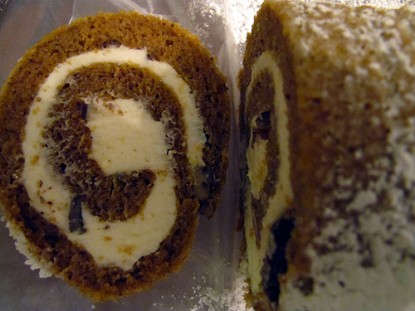 Difficulty: Easy
Servings: 12
Prep Time:
30 minutes altogether
Cook Time:
15 minutes
Ingredients
For the cake–
3 eggs
1/2 cup white sugar
1/2 cup brown sugar
2/3 cup pumpkin puree
1/2 teaspoon ground cinnamon
1/4 teaspoon ground ginger
1/4 teaspoon ground nutmeg
3/4 cup all-purpose flour
1 teaspoon baking powder
1/2 cup chopped pecans
For the frosting–
1 cup sifted powdered sugar
1 teaspoon vanilla extract
2 tablespoons butter, softened
8 ounces cream cheese
Directions
Preheat oven to 375-degrees. Beat the eggs. Add the sugars, pumpkin, and spices. Mix again. Add the flour and baking powder. Mix well and pour into a 15 x 10 x 1 pan lined with parchment paper. Sprinkle the pecans across the top. Bang it down on your kitchen counter to make sure the batter is spread evenly. Bake at 375-degrees for 15 minutes. Slide off the parchment paper together with the cake. Roll up the cake inside the parchment paper. (This will keep the cake from sticking to itself.) Rolling the cake now, while it's still hot and pliable, "trains" the cake to take a rolled form without breaking the cake. Let the cake cool completely. Prepare the frosting–combine all the ingredients and mix well with a spoon. When the cake is cooled, unroll it. Spread with frosting, keeping back a bit from the edges. Then roll it back up. (Without the parchment paper inside this time, of course.) Sprinkle with powdered sugar on top to serve.
Categories: Cakes, Desserts, Entertaining, Holiday
Submitted by: suzanne-mcminn on December 22, 2015