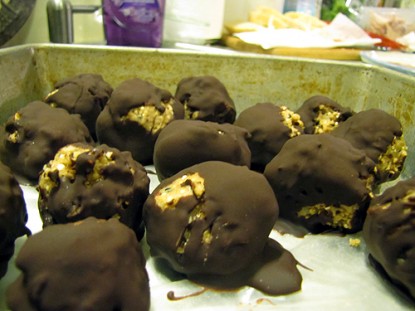 Difficulty: Easy
Servings: 1 dozen
Prep Time:
30 minutes prep time, 1-2 hours chilling time
Cook Time:
5-10 minutes
Ingredients
1/2 teaspoon vegetable oil
1/3 cup uncooked millet*
2/3 cup creamy peanut butter (or almond butter, sunflower butter, etc)
1/4 cup powdered sugar
2 tablespoons flour
1 1/2 teaspoons vanilla extract
1 cup semi-sweet chocolate chips
1 teaspoon coconut oil**
Directions
*Substitute with quinoa if you have it on hand, or leave it out entirely.
**Substitute with vegetable oil or butter if you prefer.
Toast millet in oil in a skillet over medium heat, about three to five minutes. Line a baking sheet with parchment paper or wax paper. In a medium bowl, mix together the peanut butter, powdered sugar, flour, and vanilla until it thickens into dough. Fold in the millet and mix thoroughly. Make walnut-sized balls with the dough and place them on the baking sheet. Put them in the freezer for 30 minutes to two hours. Just before removing balls from the freezer, melt the chocolate. Gently lower a ball into the chocolate using a fork. For the buckeye look, leave a small hole exposed. Drip off the excess chocolate and place the buckeye down on the baking sheet and repeat with the rest of the balls. Freeze for at least 30 minutes to firm before serving.
Categories: Candy
Submitted by: suzanne-mcminn on November 30, 2015