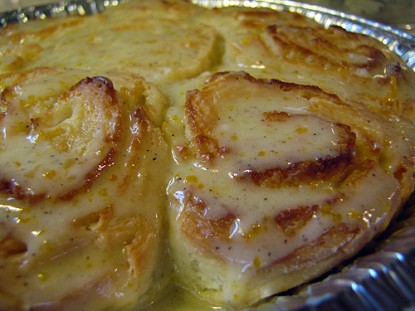 Difficulty: Easy
Prep Time:
15 minutes
Cook Time:
10 minutes
Ingredients
2 cups self-rising flour
1 cup butter, softened
buttermilk
1 medium orange, for juice and zesting
1/4 cup butter, softened
1/3 cup granulated sugar
1 cup sifted powdered sugar
ground cloves
Directions
Place self-rising flour in a medium-size bowl. Cut in butter. Add buttermilk until you have a nice biscuit dough–not too moist, not too dry. Roll dough out on a floured surface to a rectangle about 6 inches by 12 inches. Zest the orange with a grater. (You can skip the zesting, but it's great additional flavor.) Cut the orange in half and squeeze out several tablespoons of juice into a small bowl. Remove any seeds. Mix the 1/4 cup softened butter into the juice along with some zest then spread over the rolled biscuit dough. Sprinkle the granulated sugar across the top. (You could use brown sugar instead.) Roll the dough up, length-wise, and seal edges. Wrap the dough and chill in the freezer for about 30 minutes for easier slicing. Slice the dough into 8 to 10 spiral rolls. Place in a greased pan. Bake at 450 about 10 minutes or until nicely browned. Cool, then ice. To make the icing, mix powdered sugar, more orange juice, zest, and a sprinkle of ground cloves until you have a drizzling consistency.
Drizzle lavishly.
Categories: Biscuits, Breads, Breakfast, Pastries, Rolls
Submitted by: suzanne-mcminn on January 6, 2016