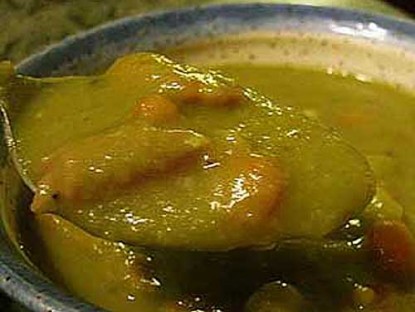 Difficulty: Easy
Servings: multiple
Prep Time:
15 minutes
Cook Time:
90 minutes
Ingredients
1 cup dry split peas
4 cups chicken broth
1 meaty ham bone
1/4 teaspoon marjoram
1 bay leaf
pepper
1 cup chopped carrot
1 cup chopped celery
1 cup chopped onion
Directions
If you don't have a ham bone, add cooked, chopped bacon instead. If you're a vegetarian, you can use vegetable broth instead of chicken broth and leave out the meat entirely.
Rinse peas. In a large pot, combine peas, broth, ham bone, marjoram, bay leaf, and a dash of pepper. Bring to a boil; reduce heat and cover. Simmer for an hour, stirring occasionally. Take out the ham bone, scraping any remaining meat back into the pot. Add carrot, celery, and onion to the pot and bring to a boil again. Reduce heat, cover, and simmer for 30 minutes.
Categories: Bean Soups, Budget, Old-Fashioned, Soups & Stews
Submitted by: suzanne-mcminn on June 6, 2010