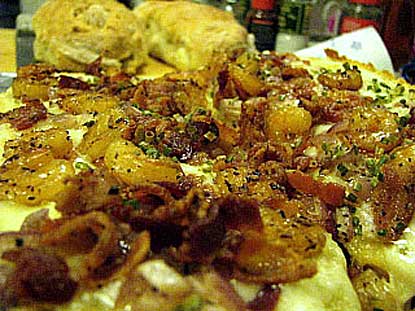 Difficulty: Easy
Servings: varies
Prep Time:
20 minutes
Cook Time:
15 minutes
Ingredients
French bread, sliced lengthwise
olive oil
garlic powder
Swiss cheese, shredded
onion, chopped
shrimp
bacon, cooked and chopped
Directions
I'm not giving specific quantities here because it all depends on how many different ingredients you're adding and how many loaves of french bread you're using (not to mention the size of the loaves). Start by frying the bacon. Get it drained, cooled, and chopped, then saute the chopped onions and some medium-sized shrimp. If you're using other chopped vegetables, such as peppers, saute them now, too.
Drizzle sliced loaves with olive oil. Sprinkle with garlic. Layer on the cheese, onion, bacon, and shrimp. Bake at 375-degrees for about 15 minutes, just enough to melt the cheese and get everything hot.
Categories: Main Dish, Seafood
Submitted by: suzanne-mcminn on April 5, 2011