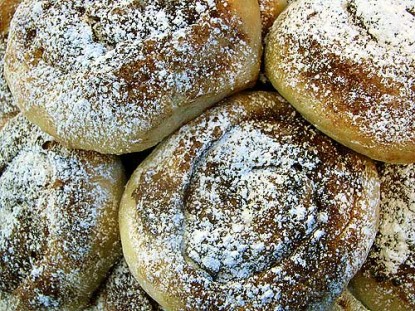 Difficulty: Intermediate
Servings: 12
Cook Time:
8 - 10 min
Ingredients
Start with the one-loaf standard Grandmother Bread recipe for 12  rolls
1 1/2 cups warm water
1 teaspoon yeast
1/2 teaspoon salt
2 tablespoons sugar
3 1/2 cups flour
Filling:
2 Tablespoons melted butter
1/4 cup sugar
1/4 cup brown sugar
1/4 teaspoon cinnamon
Topping:
2 Tablespoons melted butter
Cinnamon/Sugar mixture for sprinkling
Powdered sugar
Directions
In a large bowl, combine water, yeast, sugar, and salt. Let sit five minutes. Stir in flour with a heavy spoon until dough becomes too stiff to continue stirring easily. Add a little more flour and begin kneading. The amount of flour is approximate – your mileage may vary! Continue adding flour and kneading until the dough is smooth and elastic. Let dough rise in a greased, covered bowl until doubled. (Usually, 30-60 minutes.) Uncover bowl; sprinkle in a little more flour and knead again.
Roll out dough on a floured surface into an approximately 9×12-inch rectangle. Brush on a couple of tablespoons of melted butter. Combine 1/4 cup sugar, 1/4 cup brown sugar, and 1/4 teaspoon cinnamon. Spread over buttered dough.
Roll up, seal seams, and cut into 12 pieces. Place on greased baking sheets a few inches apart. (Because they are going to be flattened out, these make large rolls and you may need two baking sheets, six rolls per pan.) Use the bottom of a glass to flatten rolls. Let rise for 30 minutes. You have time to watch Judge Judy, or fantasize about eating a sweet, hot crispie.
After 30 minutes, cover the rolls with waxed paper and use a rolling pin to flatten the rolls again.
Brush rolls with more melted butter. Sprinkle with more cinnamon and sugar. No being stingy with the butter and sugar. We're going all out here.
Bake at 400-degrees for 8-10 minutes. Serve sprinkled with powdered sugar.
Categories: Breads, Other Breads, Other Breakfast, Pastries, Rolls, Yeast Breads
Submitted by: suzanne-mcminn on June 10, 2010