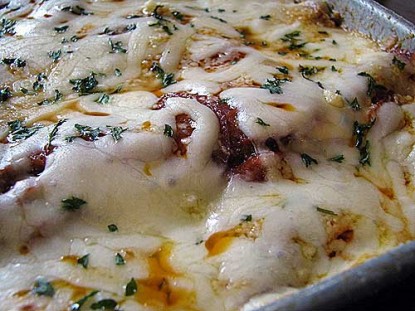 Difficulty: Easy
Servings: 12
Prep Time:
20 minutes
Cook Time:
30-45 minutes
Ingredients
1/2 pound ground beef
1/2 pound ground sausage
6 ounces sliced pepperoni
1/2 cup chopped onion
1 clove garlic, minced
1 teaspoon basil
1 teaspoon oregano
salt to taste
1 7 1/2-ounce can tomato paste
1 pint home-canned tomatoes or 15-ounce canned tomatoes
1 box lasagna pasta
16 ounces ricotta cheese
2 eggs
1/2 cup grated Parmesan
1 tablespoon parsley
8-ounce shredded mozzarella
Directions
In a large saucepan, cook ground beef and sausage. Drain. Add onion and garlic; cook for a few more minutes. Combine with basil, oregano, salt, tomato paste and tomatoes, then simmer meat mixture for 15 minutes. In a small bowl, combine ricotta cheese, eggs, 1/4 cup of the Parmesan, and parsley.
Note: I never pre-cook lasagna pasta. They sell that "special" oven-ready lasagna that they say doesn't need to be boiled. Forget that. Just use regular lasagna pasta. It works. Trust me.
To put lasagna together, place just enough sauce to cover the bottom of a greased 9 x 12 pan then layer half of the uncooked pasta, ricotta cheese mixture, and the meat/tomato mixture. On top of the meat/tomato mixture, layer sliced pepperoni. Place shredded mozarella on top. Repeat layers. At the end, sprinkle remaining 1/4 cup Parmesan on top along with a little more parsley.
Bake uncovered at 375-degrees for 30-45 minutes. (On the longer end if you're using uncooked pasta.)
Categories: Beef, Entertaining, Kid-Friendly, Main Dish, Pasta, Potluck, Special Occasions
Submitted by: suzanne-mcminn on April 5, 2011