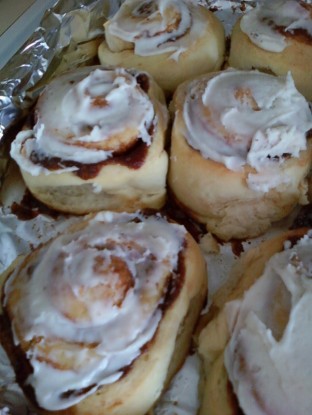 Difficulty: Easy
Servings: 15-17 rolls
Prep Time:
10 minutes
Cook Time:
20-25 minutes
Ingredients
Dough:
1 cup heated milk (1 minute in the microwave)
1/4 cup warm water
1 tbsp vanilla
1 stick butter at room temperature
2 eggs at room temperature, beaten
1/2 tsp salt
1/2 cup sugar
5 cups flour
1 tbsp yeast
Filling:
1 stick butter, melted
1 cup packed brown sugar
5-6 tbsp cinnamon
Frosting:
2 tbsp softened cream cheese
1/4 cup softened butter
1 tsp vanilla
1-1/4 cup powdered sugar
Directions
Mix heated milk, water, vanilla, butter, eggs, salt, and sugar together. Then mix in flour and yeast until soft dough is formed. Knead on a greased surface for about 5 minutes. Grease a large bowl with butter and place dough in bowl. Cover and let rise until doubled in size.
Roll out dough on a greased surface to a 12 x 15 inch rectangle. Make sure the rolling pin is also greased. Brush with melted butter, then sprinkle with brown sugar-cinnamon mixture.
Roll up like jelly roll and seal the seam. Using a serrated knife, gently cut into 1-1/2 inch slices. Place slices cut side up in greased 9×13 inch pans; cover and refrigerate overnight.
Bake in 350 degree oven for 20-25 minutes. For convection ovens, bake at 325 for 20-25 minutes.
For Frosting, mix together cream cheese, butter, vanilla, and powdered sugar.
Let baked cinnamon rolls sit for about 10 minutes and then frost and enjoy.
I use my bread maker on the dough setting to mix, knead, and raise the dough. When done on the dough setting, then I roll, fill and proceed as noted.
Categories: Breakfast, Pastries, Rolls
Submitted by: farmdogmama on December 19, 2010