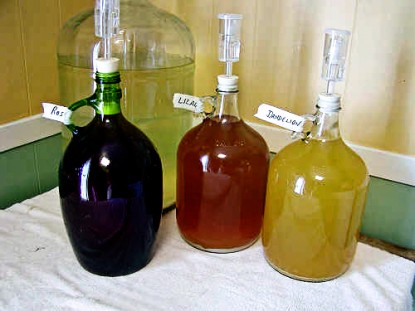 Difficulty:
Ingredients
12 pounds apples, mixed varieties
2 pounds (not cups) granulated sugar
1 gallon water
1 teaspoon. pectic enzyme
2 teaspoon acid blend
1/2 packet of wine yeast
Directions
Quarter the apples and run them through a grinder. Bring pulp to simmer in 1 gallon of water, holding simmer for 15 minutes. Strain juice onto the sugar in primary fermentation vessel, stirring well to dissolve, then reintroduce the strained pulp and, when cool, the pectic enzyme and acid blend, stirring well. Cover, set in a warm place for 24 hours, then add yeast. Cover, and set in a warm place for four days, stirring twice daily. Strain pulp and pour liquor into secondary fermentation vessel and fit with air lock. Rack when clear and fermentation has ceased. Rack again in 30 days and again in another 30 days, then bottle. Allow one year to age.
Categories: Beverages, Old-Fashioned
Submitted by: runningtrails on September 4, 2010