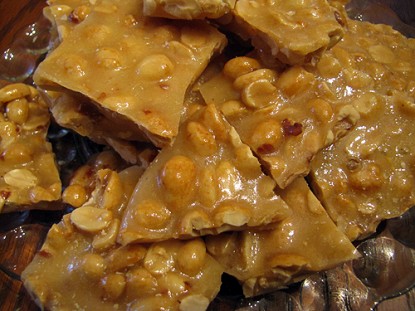 Difficulty: Easy
Servings: 1 pound
Prep Time:
5 minutes
Cook Time:
about 45 minutes altogether
Ingredients
2 cups sugar
1 cup light corn syrup
1/2 cup water
1/4 cup butter
2 1/2 cups peanuts*
1 1/2 teaspoons baking soda
Directions
*You can use other nuts, coarsely chopped. I prefer the old-fashioned peanuts, and I like them salted and roasted for the additional flavor, but you can use raw peanuts or unsalted peanuts–up to you!
Line a large baking sheet (11 x 14 size) and butter it. (I use aluminum foil.) Butter the sides of a medium-size sauce pan. In the pan, combine the sugar, corn syrup, water, and butter. Cook and stir over medium-high heat until it boils. Once the candy is ready to pour, you'll have to act fast. I keep everything pre-measured and ready, including especially the baking soda. Bring the heat down slightly, clip on a candy thermometer, and cook/stir until the mixture reaches 275-degrees. The mixture will start darkening to a golden color. Add the nuts and keep cooking until it comes up to 295-degrees. Quickly sprinkle the baking soda over the mixture, stir in, and pour. Work fast! It will get hard very fast. Spread it out and let cool. Break into pieces.
Categories: Candy
Submitted by: suzanne-mcminn on December 19, 2013