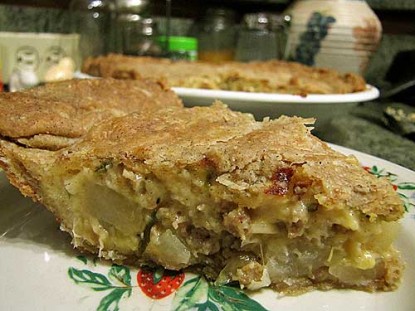 Difficulty: Easy
Servings: 8
Prep Time:
20 minutes
Cook Time:
40 minutes
Ingredients
1 pound bulk sausage
2 cups roughly chopped leeks
2 cups diced potatoes
2 tablespoons butter
2 tablespoons flour
1 cup milk
1 1/2 cups cheddar cheese
seasonings to taste (salt, pepper, garlic)
parsley
pastry for double-crust pie
Directions
Cook sausage; drain, leaving the fat in the pan. Chop leeks and potatoes. Add to pan with the fat. Saute for several minutes on medium-high then cover the pot. Turn to Low and let simmer for about 20 minutes or until potatoes are tender. Remove leeks and potatoes from pan; drain. Remove any remaining grease from the pan. Add butter and flour, stirring to make a roux. Gradually stir in milk. Add cheese, stirring to melt. Add salt, pepper, and garlic powder to taste. Line a pie pan with pastry. Combine sausage, leeks, and potatoes; spoon into lined pie plate. Pour cheese sauce over meat and vegetables. Sprinkle parsley over the mixture. Top with remaining pastry. Bake at 350-degrees (on lower oven rack) for 40 minutes.
Categories: Casserole, Main Dish, Old-Fashioned, Pork
Submitted by: suzanne-mcminn on September 16, 2010