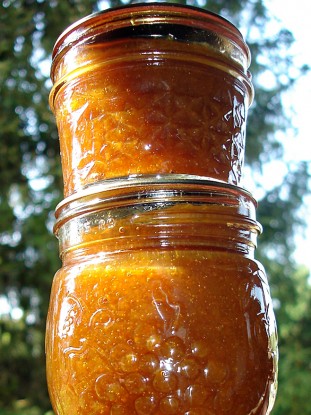 Difficulty: Intermediate
Cook Time:
BWB 15 min
Ingredients
peach pulp
light brown sugar (1 3/4 cups per 2 cups peach pulp)
ground ginger (1/2 tsp per 2 cups peach pulp)
Directions
Run steam-juiced peaches through a food strainer after removing the pits from the pulp. Measure the resulting peach pulp.
For each 2 cups of pulp, add 1 3/4 cups light brown sugar and mix well.
Pour pulp and sugar mixture into a lightly oiled slow cooker.
Vent the lid (I used a wooden spoon handle) and cook the mixture on low, stirring occasionally, until it has thickened to your satisfaction and is somewhat translucent.
Stir in 1/2 teaspoon ground ginger for each 2 cups of peach pulp that you started with. Taste and add more if you prefer.
Ladle into hot 8 ounce jars, debubble. Cap and process in a boiling water bath for 15 minutes.
Four cups pulp made with this recipe yielded 5 half-pints + a little for the cook!
Categories: BWB Jams, Jellies, Butters & Preserves, Steam Juicer
Submitted by: wvhomecanner on September 16, 2010