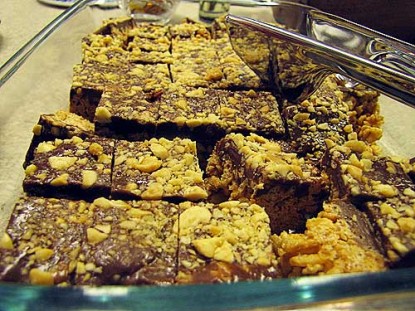 Difficulty: Easy
Servings: 2 dozen
Prep Time:
15 minutes
Ingredients
10 ounces peanut butter chips
1/2 cup butter
6 1/2 cups Rice Krispies
12 ounces semi-sweet chocolate chips
1/2 cup light corn syrup
1/2 cup honey roasted peanuts, chopped
Directions
Spray a 13 x 9 pan with oil. Microwave (or heat in a small pan) the peanut butter chips and butter, stirring till blended. Add cereal and stir to mix.
Spread cereal mixture into prepared pan, pressing into an even layer. Melt chocolate chips. Add corn syrup and stir to blend. Spread over cereal mixture in pan. Sprinkle chopped nuts on top. Refrigerate until firm.
Categories: Cookies & Bars, Desserts, Entertaining, Kid-Friendly, Potluck
Submitted by: suzanne-mcminn on July 29, 2010