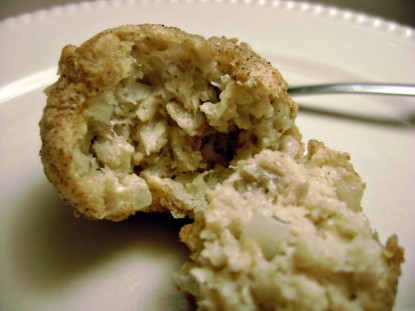 Difficulty:
Ingredients
1 1/2 pounds fresh salmon fillet (canned salmon would work also)
3/4 cup finely ground bread crumbs
1 small onion, chopped fine
2 teaspoons dill weed
1 teaspoon black pepper
1 teaspoon seasoning salt (I use no salt version)
1 egg
For dredging:
1 egg
1 teaspoon cayenne pepper
1 cup flour
1 Tablespoon paprika
Pan with at least 1″ of oil heated to 350F
Directions
Grind salmon fillet if using fresh. Put in mixing bowl.
Add remaining ingredients and mix together.
Roll into desired sized balls.
Mix together the egg and cayenne pepper into one bowl. In another flat bowl, mix together the flour and paprika.
Using the two hand system (one for egg, one for flour), dip first into the egg then the flour.
Place into hot oil. Cook about 3 – 4 minutes or until desired golden brown, turning if need be in the oil. It will not take long for the salmon to cook.
Categories: Appetizers & Snacks, Fish
Submitted by: cindyp on October 11, 2010