When I was searching for a way to make my own garlic-flavored olive oil, I came across this technique that produces roasted garlic at the same time. Then I decided I wanted to make garlic bread with all my roasted garlic and developed a spread to use it.
Roasted garlic can be used wherever you want a subtle garlic flavor that doesn't have the harshness of raw garlic. I especially like it mixed into goat cheese or cream cheese with herbs. The garlic oil can be used in almost any savory dish to add a little extra flavor. I pour a couple of tablespoons of it over vegetables before I roast them and use it in salad dressing. Stored in the fridge, the oil and the roasted garlic will keep about a month.
Roasted Garlic and Garlic Oil

Remove any excess papery skin from a head of garlic and cut the head in half.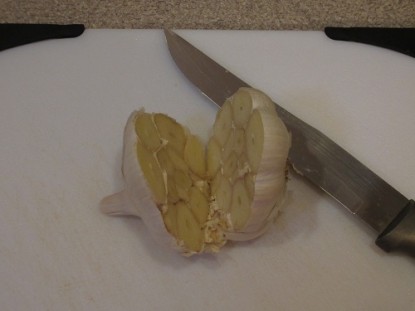 Place cut side down in a small baking dish and pour 1 cup olive oil over it. (I'm doing 2 heads of garlic and 2 c. oil here.) You can add additional seasonings, such as a sprig of thyme, if you like.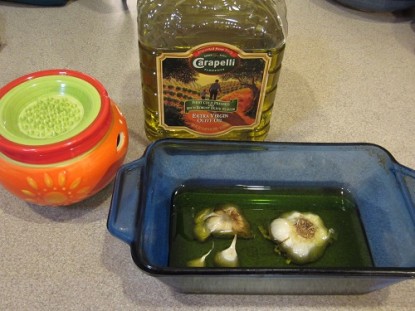 Cover the dish with foil and bake at 300 degrees for 45 to 60 minutes. (The garlic is done when it's soft.) Be careful when removing the foil that you don't burn yourself on the steam. Let the garlic cool until you can handle it safely. Remove the garlic from its skin and place into a bowl; you can try squeezing it out of the skin, but I find it easier to pull the cloves out with a sharp knife.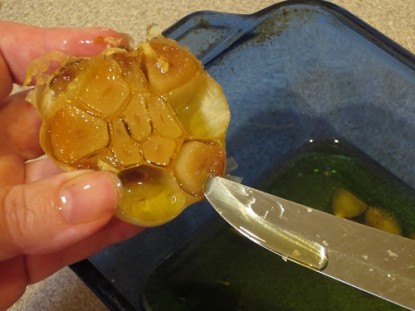 Filter the oil by pouring it into a funnel lined with a coffee filter.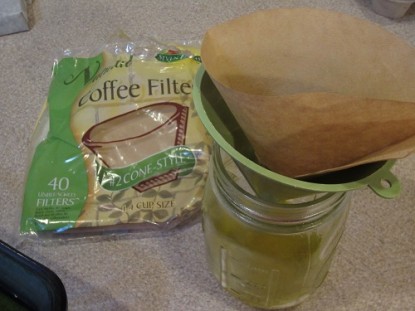 Store the oil and garlic cloves in the fridge for up to a month. The oil tends to solidify in the fridge, so I usually microwave it for 30 seconds before I use it.
Roasted Garlic Spread

Mash up 1 tablespoon roasted garlic with a fork; mix in 1/2 cup softened butter or margarine, 1/4 c. shredded Parmesan, and 3/4 teaspoon Italian seasoning. (I've tried doing this in the blender and food processor and the fork method works the best.)
Spread on slices of bread and toast under the broiler or on the grill until browned. You can also cut a loaf of French bread into slices, spread each one with this, wrap loaf in foil, and bake until warmed through.
This freezes well; I make a large batch of it and freeze it in 1/2 pint canning jars until needed.
See this recipe on Farm Bell Recipes for the printable and to save it to your recipe box:
Garlic Oil & Garlic Spread

Do you have a recipe post or kitchen-related story to share on the Farm Bell blog?

See

Farm Bell Blog Submissions

for information, the latest blog contributor giveaway, and to submit a post.

Want to subscribe to the Farm Bell blog?

Go here

.