When I was younger (much younger) my mother would occasionally make us a wonderful green salad for lunch with canned tuna, green peas, and mayonnaise. I always enjoyed that salad, but as I got older, I realized I liked it even better with Ranch dressing. Now that I am eating healthier, I make my own Ranch dressing, which is even better than the store-bought kind!
Tuna and Green Pea Salad:
1 bunch romaine lettuce, chopped
2 green onions, sliced
2 tomatoes, peeled and chopped
1 cucumber, peeled and chopped
1 pouch tuna (6.4 oz)
1 small (8.5 oz) can green peas, drained (I always use Le Sueur Very Young Small Sweet Peas)
salt and pepper to taste
Mix all the ingredients and serve with homemade Ranch dressing.
Homemade Ranch Dressing/Dip:
3/4 cup sour cream
3/4 cup Greek yogurt
1/3 cup mayonnaise
1 teaspoon garlic powder
1 Tsp. onion powder
1 1/2 teaspoon chopped chives
1 1/2 teaspoon chopped parsley
1 teaspoon salt
1/4 teaspoon pepper
1 tablespoon Balsamic vinegar
Combine all ingredients, whisk to blend and serve. This make a very thick, creamy Ranch with the consistency of a dip. If you like your dressing a bit thinner, you can add 1-2 cups of buttermilk (depending on the consistency you want). If you want to use fresh chives and fresh parsley, you will need to double the amounts listed. To make this low-fat, just use fat-free sour cream, fat-free Greek yogurt, and light mayonnaise. It tastes just as good.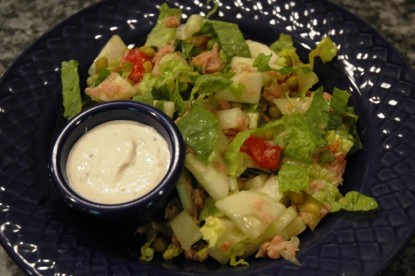 Something about the combination of the tuna, green peas, and fresh vegetables makes this an absolutely delicious meal!
Get the printable and save it to your recipe box:
Tuna and Green Pea Salad with Homemade Ranch Dressing

What are your favorite additions to a green salad?