My boyfriend is originally from the U.K., also known as The Land of Meat and Potatoes. He grew up eating Sunday roasts with Yorkshire pudding (basically popovers made with beef fat), pies, Cornish pasties, bacon with bread fried in the grease—-you know, traditional English food meant to fuel you up for hours of farming, fishing, or mining coal. The problem is that he and I both sit at desks all day, no mining required. And we're not 20 years old, either.
So my goal as the main cook in our house is to reduce the saturated fat content and up the vegetable matter in the food I make for us, while still making things that the Resident Carnivore likes to eat. That's where this recipe comes from; I took a basic Shepherd's Pie recipe and stuffed as much veg into it as I could in order to lighten it up. I can proudly say that whenever I ask my honey what he would like me to make for dinner, this is what he asks for. Mission accomplished!
First, make sure you make this recipe under proper supervision.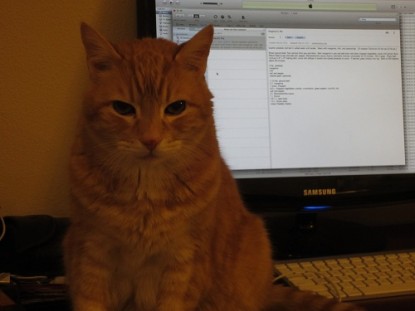 That's good.
Now, quarter 2 lbs. of potatoes and boil in salted water until tender; mash with milk and butter or margarine and season with salt and pepper. If you're concerned about carbs, you can substitute cooked, mashed, and seasoned cauliflower for some or all of the potatoes. You can also substitute Colcannon (an Irish dish of potatoes mashed with cabbage or other greens) for the plain mashed potatoes. In my picture here, I've added a head of roasted garlic and some of my homemade yogurt.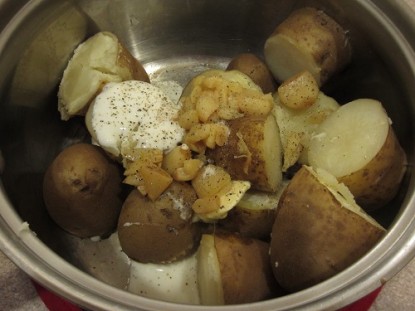 While the potatoes are cooking, brown 1 to 1 ½ lbs. of lean ground beef, then remove from pan and drain on paper towels. (You can also use ground lamb, for a traditional Shepherd's Pie.)


Wipe out pan, then return to medium heat and add 1 tablespoon oil; when that's hot, add 1 chopped onion and 4 to 5 cups chopped vegetables—-almost anything will work. This time, I used green pepper, mushrooms, zucchini, and carrots. I've used everything from broccoli to beets to kohlrabi and it's been great. (I belong to a CSA and another benefit of this recipe is that it helps me to use up what I get in my box every week.) Greens are a great addition, but I would add them with the peas later.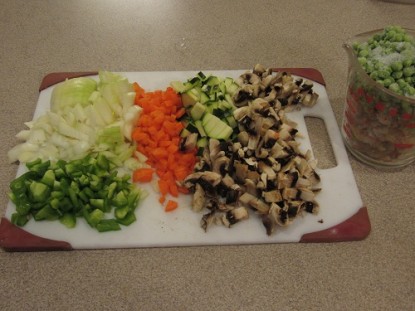 Cover the pan and cook, stirring occasionally, until the vegetables are almost done, then return beef to pan with vegetables and add 2 teaspoons Worcestershire sauce, 1 teaspoon dried thyme, ½ to 1 cup beef broth (I usually just throw in a ½ pint of homemade broth from my freezer), and salt and pepper to taste. Simmer, uncovered, for 10 minutes, then stir in 1 to 2 cups frozen peas. In this batch, I also threw in some leftover cooked cauliflower at this point (you can see it under the peas in the measuring cup). Transfer the mixture into a 9 x 13 baking dish. Spoon dollops of the mashed potatoes on top, then spread to cover. I like to grate some extra-sharp cheddar on top.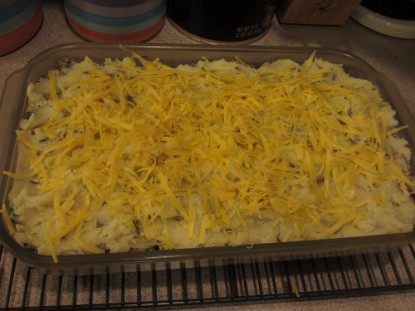 Bake at 400 degrees for about 30 minutes, or until the top is starting to brown a bit.


Get the printable and save it to your recipe box:
Lightened-Up Cottage Pie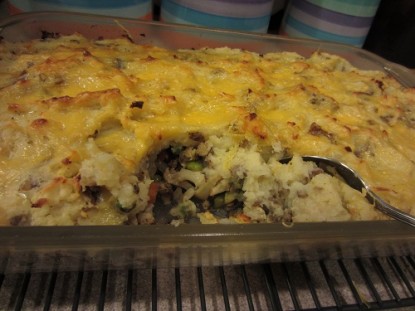 Do you have a recipe post or kitchen-related story to share on the Farm Bell blog?

See

Farm Bell Blog Submissions

for information, the latest blog contributor giveaway, and to submit a post.

Want to subscribe to the Farm Bell blog?

Go here

.