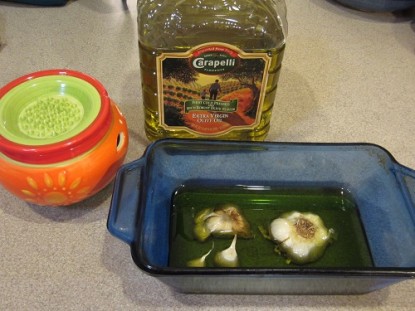 Difficulty: Easy
Servings: Varies
Prep Time:
10 minutes
Cook Time:
45-60 minutes
Ingredients
Garlic Oil and Roasted Garlic:
1 head garlic
1 c. olive oil
Garlic Spread:
1 T. roasted garlic, mashed up with a fork
1/2 c. softened butter or margarine
1/4 c. shredded Parmesan cheese
3/4 t. Italian seasoning
Directions
Remove any excess papery skin from head of garlic and cut the head in half.
Place cut side down in a small baking dish and pour olive oil over it. You can add additional seasonings, such as a sprig of thyme, if you like.
Cover the dish with foil and bake at 300 degrees for 45 to 60 minutes. (The garlic is done when it's soft.) Be careful when removing the foil that you don't burn yourself on the steam. Let the garlic cool until you can handle it safely. Remove the garlic from its skin and place into a bowl. You can try squeezing it out of the skin, but I find it easier to pull the cloves out with a sharp knife. Then filter the oil by pouring it into a funnel lined with a coffee filter.
Store the oil and garlic cloves in the fridge for up to a month. The oil tends to solidify in the fridge, so I usually microwave it for 30 seconds before I use it.
Roasted Garlic Spread:
Combine ingredients in a small bowl with a fork. (I've tried doing this in the blender and food processor and the fork method works the best.)
Spread on slices of bread and toast under the broiler or on the grill until browned; you can also cut a loaf of French bread into slices, spread each one with this, wrap loaf in foil, and bake until warmed through.
This freezes well; I make a large batch of it and freeze it in 1/2 pint canning jars until needed.
Categories: Appetizers & Snacks, Other Condiments, Other Side Dishes
Submitted by: stillsth on May 30, 2012