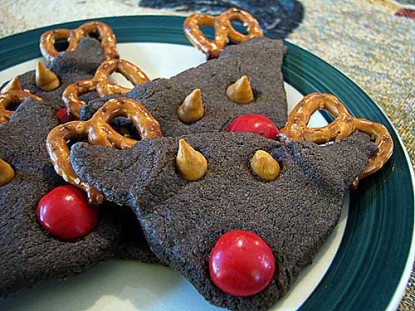 Difficulty: Easy
Servings: 5-6 dozen
Prep Time:
20 minutes plus chilling time
Cook Time:
8 minutes
Ingredients
1/2 cup butter, softened
1/2 cup shortening
1 cup sugar
1/4 cup unsweetened cocoa powder
1 teaspoon baking powder
1/4 teaspoon salt
1 egg
1 teaspoon vanilla
2 cups all-purpose flour
mini pretzel twists
butterscotch chips
large red M&Ms
Directions
In a medium-size bowl, beat butter and shortening with an electric mixer. Add sugar, cocoa powder, baking powder, and salt. Beat again. Beat in egg and vanilla. Mix in flour with a spoon. Divide the dough into two pieces. Wrap and refrigerate for about an hour.
Roll out one piece of the cookie dough into an 8-inch square (approximately, don't get hung up on that). Trim sides to make them even. (Save the dough scraps to roll out again with the second piece of dough.) Cut into approximately 2- to 3-inch squares.
Cut across the squares to make triangles. Place two pretzels at the top on each side. Just slide them under the edge of the cookie and press down on the dough very lightly to make sure they stick. Place two butterscotch chips for the eyes and a large red M&M for the nose on top of the cookies; press lightly.
Bake at 350-degrees for about 8 minutes.
Categories: Cookies & Bars, Desserts, Entertaining, Holiday
Tags: Christmas Cookie
Submitted by: suzanne-mcminn on December 12, 2010