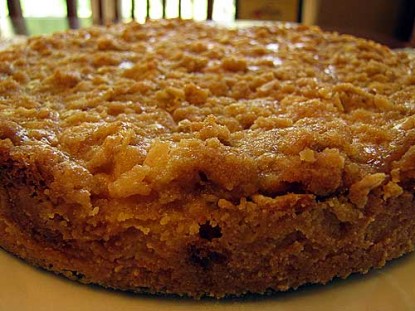 Taste of Home
magazine. There, it used strawberry jam and mixed berries. You could use any fruit you like and have available. I still have plenty of peaches in the freezer and jam in the pantry, and that's what sounded good to me. This is a delicious way to use your favorite fresh fruit of the season.
Difficulty: Easy
Servings: 8-10
Prep Time:
20 minutes
Cook Time:
40-45 minutes total
Ingredients
CRUST:
1 cup all-purpose flour
1/3 cup sugar
1/2 cup cold butter
FILLING:
4 ounces peach jam
8 ounces cream cheese
1/4 cup sugar
1 egg
1 teaspoon vanilla
2 cups sliced peaches (fresh or frozen)
TOPPING:
3/4 cup packed brown sugar
1/3 cup rolled oats
1/2 cup all-purpose flour
1/4 cold butter
Directions
For crust, combine flour and sugar in a small bowl. Cut in butter until crumbly. Press onto the bottom and one inch up the sides of a 9-inch springform pan. Bake at 375-degrees for 8-10 minutes until lightly browned. Cool on a wire rack.
For filling, spread jam over cooled crust. Combine cream cheese and sugar in a bowl; beat till smooth. Add egg and vanilla. Beat on low just till combined. Spoon over jam, spreading evenly. Add sliced peaches.
In another small bowl, combine topping ingredients, cutting in butter. Sprinkle over filling.
Bake at 375-degrees for 30-35 minutes. Cool on a wire rack for 10 minutes. Loosen sides. Cool another 30 minutes or more. Serve warm or cold. Refrigerate to store.
Categories: Cheese, Dairy, Desserts, Entertaining, Tarts
Submitted by: suzanne-mcminn on August 9, 2010