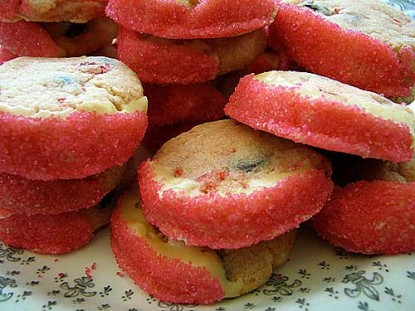 Difficulty: Easy
Servings: 3 dozen
Prep Time:
20 minutes
Cook Time:
15 minutes
Ingredients
1 cup butter or margarine, softened
1/2 cup sugar
2 teaspoons maraschino cherry liquid
1/2 teaspoon vanilla
1/2 cup maraschino cherries, chopped
1/4 cup white chocolate chips
1/4 cup dark chocolate chips
2 cups all-purpose flour
1/4 teaspoon baking powder
1/4 teaspoon salt
Pink Sugar Edging
Directions
Cream sugar and butter with an electric mixer. Add the cherry liquid and vanilla; beat again. Stir in white and dark chocolate chips and chopped cherries. Work in the remaining ingredients. You'll have a somewhat stiff cookie dough. Get your hands in there and shape it into a nice ball. There's plenty of butter in there, it'll work. Scoop off spoonfuls of dough to make approximately one-inch balls. Place on lightly greased cookie sheets then press firmly over the tops with the bottom of a glass to flatten.
Bake at 350-degrees for about 15 minutes. Recipe makes approximately 3 dozen cookies. (Baking time and yield will vary depending on the size you make your cookie dough balls.) Let cool completely on a wire rack before adding the pink sugar edging.
Pink Sugar Edging:
1 cup white chocolate chips
2 tablespoons shortening
2 tablespoons milk
pink sugar sprinkles
Melt and stir white chocolate chips, shortening, and milk. Dip edge of each cookie in the melted white chocolate then the pink sugar sprinkles. Place on waxed paper until the edging sets up.
Categories: Cookies & Bars, Desserts
Submitted by: suzanne-mcminn on December 12, 2010