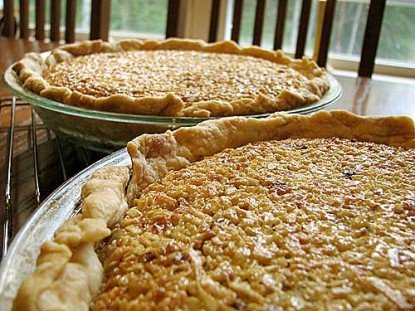 Difficulty: Easy
Servings: 8
Prep Time:
15 minutes
Cook Time:
40-45 minutes
Ingredients
3 eggs
3/4 cup light corn syrup
1/4 cup dark rum
2/3 cup sugar
1/3 cup butter, melted
1 teaspoon vanilla
1/2 cup shredded coconut
1/3 cup oatmeal
1/3 cup walnuts, chopped
one unbaked single-crust pie shell
Directions
In a medium-size bowl, combine eggs, corn syrup, rum, sugar, butter, and vanilla. Whisk to mix. Using a spoon, stir in coconut, oatmeal, and walnuts. Pour into pie shell. Bake at 350-degrees on the lower oven rack for 40-45 minutes.
How easy is that? You could be eating this pie right now. What are you waiting for?
Categories: Desserts, Entertaining, Holiday, Pies
Submitted by: suzanne-mcminn on November 19, 2010