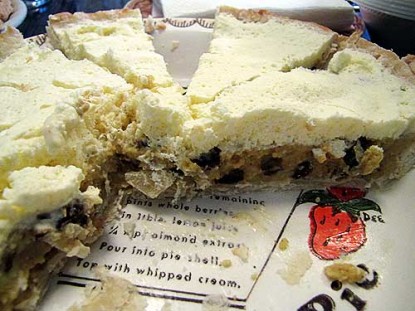 Difficulty: Easy
Servings: 8
Prep Time:
20 minutes
Cook Time:
10-15 minutes
Ingredients
1 cup raisins
2/3 cup sugar
3 tablespoons cornstarch
1/8 teaspoon salt
1/8 teaspoon ground cloves
1/2 teaspoon ground cinnamon
1 cup cream cheese, softened
3 egg yolks
1/2 cup milk
1/2 cup chopped nuts (optional)
1 baked pie shell, baked
whipped cream
Directions
n a small saucepan, place raisins and enough water to cover; bring to a boil. Turn off heat; set aside. (You can also "plump" raisins in fruit juice, rum, brandy, etc, whatever you like.)
In a heavy saucepan, combine sugar, cornstarch, salt, cloves and cinnamon. Stir in cream cheese. Beat in egg yolks. Add milk; cook over medium heat, stirring constantly, until mixture thickens. (This just takes a few minutes–stir constantly.) Remove from the heat.
Drain raisins. Add raisins, and nuts if desired. Pour into baked pie shell. Bake at 350-degrees for 10-15 minutes or until light golden brown.
Chill pie until set and cold. Spread the top with whipped cream. Sprinkle with more chopped nuts if you like. May be served chilled or even as a frozen pie. (To serve as a frozen pie, after adding the whipped cream topping, freeze for at least two hours before serving. Keeps well in the freezer and can be made in advance.)
Submitted by: suzanne-mcminn on June 3, 2011