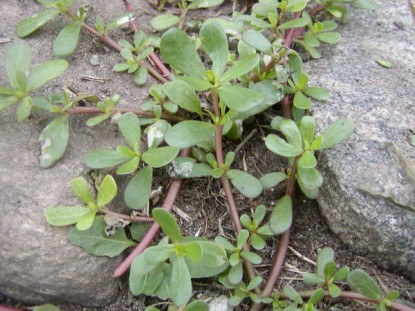 This is purslane (Portulaca oleracea). I am sure most gardeners have seen this plant growing in their gardens. Most of you have probably been pulling it up and tossing it like a weed. I was, too, until recently, when I became aware of its nutritional value. Now I encourage it to grow. I even transplant it into the flowerbed as a ground cover. I like that it does well in dry conditions, like the non-stop heat and no rain we've had for weeks now. I am also glad it does not form such a thick mat that the perennials cannot grow through it.
The stems, leaves, and flower buds are all edible. It can be eaten raw, stir fried, or cooked like spinach. It's good in stews and soups, too.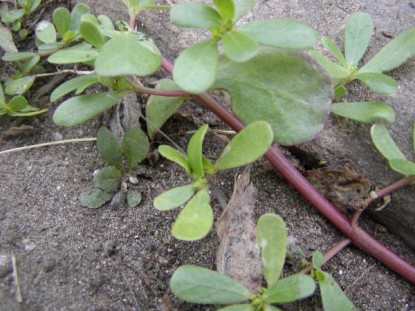 According to Wikipedia, purslane contains an extraordinary amount of EPA, an Omega-3 fatty acid normally found mostly in fish, some algae, and flax seeds. It also contains vitamins A, C, B, cartenoids, magnesium, calcium, potassium, and iron. In addition to all of this, it has two pigments, red and yellow, that are potent antioxidants and have been found to have antimutagenic (anticancer) properties in laboratory studies.
Purslane is tangy if you pick it in the morning, but mellows out more in the afternoon. It's the malic acid that makes it tangy but this converts to sugar as the day goes by.
As well as great to eat, it also has a deep root system that bring up moisture and nutrients for surrounding plants, and some, including corn, will "follow" purslane roots down through harder soil than they cannot penetrate on their own.
Known as Ma Chi Xian in Traditional Chinese Medicine, it is used to treat infections or bleeding of the genito-urinary tract as well as dysentery. The fresh herb may also be applied topically to relieve sores and insect or snake bites on the skin. (Get that, INSECT bites! Must try that… )
I, myself, am going to start cultivating it. I am going to chop it and freeze like spinach and use it as a ground cover in the ornamental gardens.
Okay, people, with all of this information, how many of you are still going to consider purslane a weed? Let's save it for the garden!


Sheryl – Runningtrails blogs at Providence Acres Farm.

Do you have a recipe post or kitchen-related story to share on the Farm Bell blog?
See Farm Bell Blog Submissions for information, the latest blog contributor giveaway, and to submit a post.

Want to subscribe to the Farm Bell blog? Go here.
What can you enter to win this month? Click here.