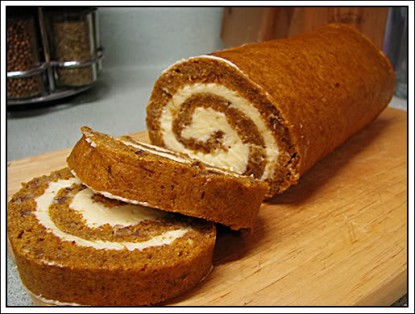 Difficulty: Intermediate
Servings: 12
Ingredients
Loaf
3 eggs
1 c. sugar
2/3 c. mashed pumpkin
Dash of salt
3/4 c. self-rising flour
2 tsp. cinnamon
1 tsp. ginger
1/2 tsp. nutmeg
1/2 c. pecans
Filling
1 tsp. vanilla extract
1 c. powdered sugar
1 (8 oz.) pkg. cream cheese
1/2 c. butter
Directions
Roll:
Beat eggs and sugar together. Mix in pumpkin. Stir in salt, flour, cinnamon, ginger, nutmeg, and pecans.
Pour into a well-greased 10×15 cookie sheet with sides.
Bake at 375 degrees for 15 minutes.
While baking, sprinkle a clean dish towel with powdered sugar.
Remove loaf from oven, loosen edges and flip onto dish towel. Roll dish towel and pumpkin together from the short side. Chill for 20 minutes.
Filling:
Blend vanilla, powdered sugar, cream cheese and butter together.
Unroll pumpkin loaf and spread filling on top. Roll tightly and place dish towel around roll. Place in refrigerator to chill. Slice and serve.
Categories: Cakes, Desserts, Fillings, Holiday, Rolls
Tags: Thanksgiving
Submitted by: kentuckyfarmgirl on May 3, 2010