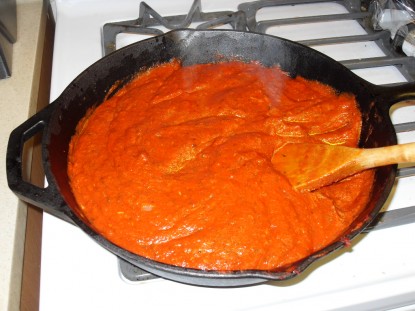 Difficulty: Easy
Servings: 3-4
Prep Time:
20 min.
Cook Time:
30 min.
Ingredients
4 Tbsp Olive Oil,
2 Tbsp butter,
1 ½ cups diced Onion,
2 cloves crushed Garlic,
2 cans Tomato Sauce (15oz),
2 cans Tomato Paste(6oz),
4 Tbsp grated Parmesan,
2 tsp dried Oregano,
2 tsp dried Basil,
1 tsp Salt,
1 tsp Sugar,
1/8 tsp Pepper
Directions
Melt the butter with the oil then add the onion and garlic until they soften. Add the paste and sauce, mix well. Add the remaining ingredients, bring to a simmer for about 30 min.
Submitted by: josie9395s on August 5, 2010