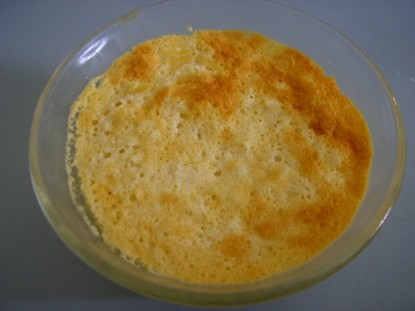 Difficulty: Easy
Servings: 8
Prep Time:
40 minutes
Cook Time:
25 minutes
Ingredients
For "Pineapple":
2 cups zucchini, peeled, seeded, and coarsely grated
3/4 cup pineapple juice
2 Tablespoons lemon juice
1/3 cup sugar
For Pudding:
3 Tablespoons unsalted butter, softened
3/4 cup sugar
4 eggs, separated
6 Tablespoons flour
pinch of salt
1 1/2 cups milk (coconut milk or rice milk work)
1/2 cup shredded, sweetened coconut
1/2 teaspoon coconut extract(optional)
1/2 teaspoon vanilla
"Pineapple" recipe prepared earlier.
Directions
For "Pineapple":
Add all ingredients to saucepan and bring to boil. Turn down heat and simmer for 25 minutes. Let cool.
For Pudding:
Preheat oven to 325 degrees.
Spray 8 (3/4cup) ramekins or oven proof bowls with spray oil. Place them in (2) 13×9 pans.
Cream butter and sugar in a bowl. Add egg yolks, one at a time, mixing well.
Add flour, one tablespoon at a time until mixed.
Add milk, mixing until smooth.
In a separate bowl, beat egg whites with salt until stiff.
Fold egg whites into butter mixture.
Fold in "pineapple" and coconut.
Pour hot water into the 13×9 pans so that it comes halfway up the sides of the ramekins.
Pour the pudding batter in the ramekins, dividing it evenly.
Bake for 25-30 minutes.
Categories: Desserts, Puddings & Custards
Submitted by: patrice on August 5, 2010