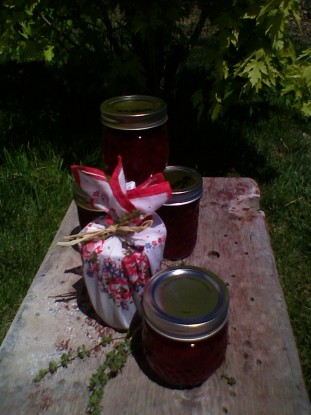 Difficulty: Easy
Servings: 8 cups
Prep Time:
about 10-15 minutes
Cook Time:
15-20 min. cooking time. 10 minutes processing time
Ingredients
4 pints strawberries, stemmed and crushed (5 cups crushed strawberries)
7 cups sugar
1 tablespoon fresh thyme, chopped fine (or more to taste) if using dried use 1 teaspoon
1 box powdered pectin (1 ¾ ounce)
½ teaspoon butter or margarine (optional)
Directions
Place strawberries in a 6-8 quart saucepan. (I use a stockpot.) Add fresh thyme. Stir one box fruit pectin to the strawberries and mix well. Add teaspoon of butter or margarine to reduce foaming.
Bring mixture to a rolling boil on high heat stirring constantly.
Stir in sugar quickly and return to a full rolling boil for exactly one minute.
Remove from heat and skim off any foam quickly.
Ladle into prepared jars, wipe off any excess jam off of jar rims and threads. Place lids and bands on tightly and process in water bath canner 10 minutes.
Yield: About 8 cups
Categories: BWB Jams, Jellies, Butters & Preserves, Condiments
Submitted by: tirzah on May 21, 2011