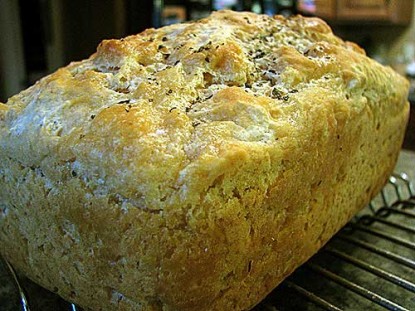 Difficulty: Easy
Servings: 12
Prep Time:
5 minutes
Cook Time:
1 hour
Ingredients
3 cups baking mix
12 ounces beer (any kind–bread flavor will vary depending on beer used)
Directions
You can make this recipe from scratch without a baking mix two ways. 1) Use 3 cups self-rising flour in place of the baking mix and add 1 tablespoon of sugar, or 2) Use 3 cups all-purpose flour, 1 tablespoon baking powder, 1 tablespoon sugar, and 1 teaspoon salt in place of the baking mix.
Note: Sweet or not so sweet? You choose. For plain beer bread, I use the baking mix without any added sugar. If you prefer a sweeter plain beer bread, add sugar (up to 1/3 cup) to the 3 cups of baking mix, and you can also increase the sugar in the scratch method.
Place 3 cups of baking mix (or your scratch ingredients) in a bowl. Pour in the beer. (It doesn't matter if it's cold or room temperature. It doesn't matter what kind of beer you use. You can use dark beer. You can even use "lite" beer.) Stir just enough to moisten the mixture then spoon it into a greased loaf pan.
Pop it in the oven at 350-degrees for one hour. If you like, in the last 10 minutes of baking, take it out and drizzle a little melted butter on top then stick it back in the oven to finish baking. If you're making a sweet beer bread, sprinkle a little sugar on top of the butter. If you want to go savory, sprinkle some herbs or cheese on top.
And for more sweet and savory beer bread options, add whatever you like right into the mixture! The basic beer bread recipe is only the beginning.
Raisin Beer Bread: Increase the sugar and add 1 cup of raisins.
Cheddar-Onion Beer Bread: Add 1 cup shredded cheddar and 1 cup chopped onion.
Herb Beer Bread: Add 2 teaspoons dried herbs (any).
You can come up with more combinations to suit your family's tastes–make your own gourmet beer bread!
Make a Beer Bread Mix: You can make a mix by placing the measured dry ingredients in a baggie–tuck into a basket or pretty bag along with a bottle of beer. Add your own printed label and directions!
Categories: Breads
Submitted by: suzanne-mcminn on January 4, 2011