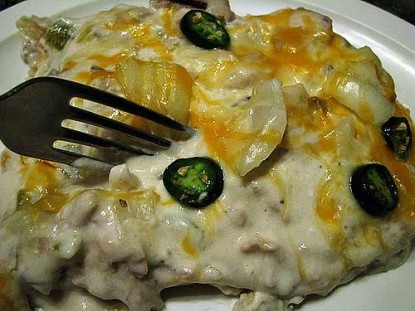 Difficulty: Easy
Servings: 6-8
Prep Time:
20 minutes
Cook Time:
30 minutes
Ingredients
12 corn tortillas
oil
2 cans cream of chicken soup
8 ounces sour cream
1/2 teaspoon garlic powder
salt and pepper to taste
2 cups chicken, cut up
1 1/2 cups cheddar cheese (divided)
1/2 cup sliced jalapenos
1/2 cup chopped onions
Directions
Fry tortillas for about 30 seconds per side in a small amount of oil on medium-high heat. You can use white or yellow corn tortillas. It doesn't matter. If you are really fussy about the taste of corn tortillas and don't like them, you can even use flour tortillas. If you use flour tortillas, you can skip the frying step. The point is to soften up the corn tortillas so they don't cause you any trouble when you're folding them. Drain fried tortillas on paper towels.
Meanwhile, in a large bowl, combine soup, sour cream, garlic powder, salt, pepper, and chicken. Stir it up into a big goopy mess. In this recipe, you can also substitute any other cream soup for the cream of chicken soup and use other types of meat. For example, another great combination that works here is cream of mushroom soup and shredded or ground beef. Cream of celery soup and pork. You can even make this dish all vegetarian–use your favorite sauteed veggies in place of meat. If you don't like jalapenos, skip the jalapenos and use chopped sweet peppers instead. I have also made this recipe with light sour cream and with fat-free sour cream and it works just fine. Once you've got the basic sour cream enchilada recipe down, you can do anything you want with it.
Stir in 1 cup of the shredded cheddar. (Depending on how you decide to vary the recipe, any other type of shredded cheese you prefer will do.) Spoon a couple tablespoons down the middle of each tortilla. (You will not use all of the sour cream mixture in the tortillas.) Fold up. Place seam-side down in a greased 9×11 casserole pan. Spread the remaining sour cream mixture over the top of the enchiladas.
Top with the remaining 1/2 cup cheese and the jalapenos and onions. You can use less onion or no onion. I leave one end of the pan with no onion because I have an onion-hater in the family. Sometimes I put chopped tomatoes on top, too, or even just pour some salsa on top.
Bake at 350-degrees, uncovered, for 30 minutes.
Categories: Casserole, Kid-Friendly, Leftovers, Main Dish, Poultry
Submitted by: suzanne-mcminn on November 21, 2010