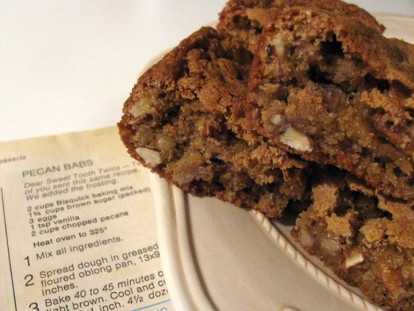 Difficulty: Easy
Servings: 24
Prep Time:
10 minutes
Cook Time:
30-45 minutes
Ingredients
2 cups Bisquick baking mix
1-3/4 cups packed brown sugar
3 large eggs
1 teaspoon vanilla
2 cups chopped pecans
Directions
Preheat oven to 325 degrees. Mix all ingredients (by hand or mixer). Spread dough into a greased and floured 13 x 9 inch pan. Bake 40 to 45 minutes or until light brown. Cool and cut into bars.
Categories: Cookies & Bars, Desserts
Submitted by: rhondah on July 10, 2010