I'm doing a lot of cooking with my homemade Greek yogurt these days. I find it's a great substitute for lots of less healthy things, like cream cheese, sour cream, and, with a little sugar added, whipped toppings for fruit desserts. Even though it's fat-free, it tastes rich and creamy, and also contains a fair amount of protein. So when I saw this recipe on Serious Eats –and happened to have some blueberries from the CSA in my fridge—-I knew I had to see if I could make it with Greek yogurt. And it's great-—creamy and light, not dry and heavy the way cheesecake can be. Bonus: no oven required, so making this won't heat up your house.
The original recipe was made in mugs, but I've modified it for my set of eight ramekins. You could also use half-pint canning jars and then throw one in your lunch for an afternoon treat.
Ingredients:
1 cup finely crushed graham cracker crumbs
¼ cup melted margarine or butter
1 ½ to 2 cups fresh or frozen blueberries
1 cup Greek yogurt, non-fat or full-fat
2/3 cup sweetened condensed milk
¼ cup fresh lemon juice
¼ teaspoon vanilla extract
Combine crumbs and margarine in a small bowl with a fork, then press into the bottoms of ramekins with the back of a spoon.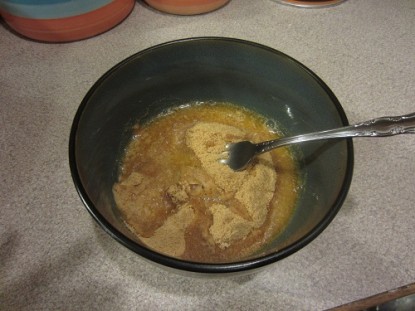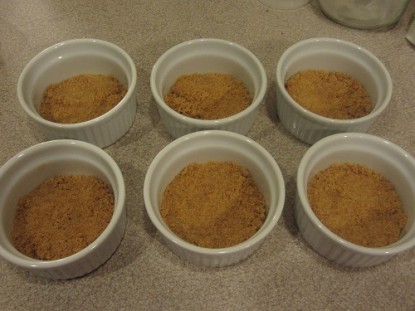 Cover crumbs with a layer of blueberries.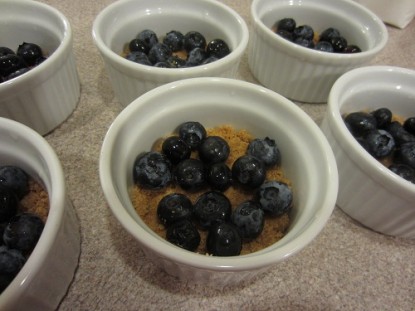 Whisk together the yogurt, milk, lemon juice, and vanilla until smooth.
Spoon on top of the berries. Refrigerate for a few hours to let the yogurt mixture set up, then serve cold.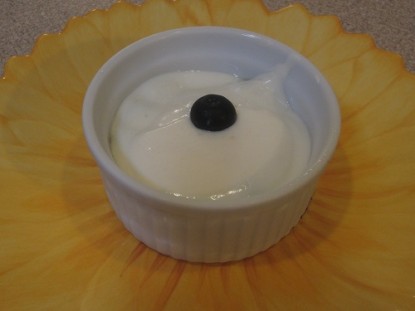 This time, I used only 6 of my ramekins and made 2 of them in these little locking containers so that my boyfriend can take them in his lunch.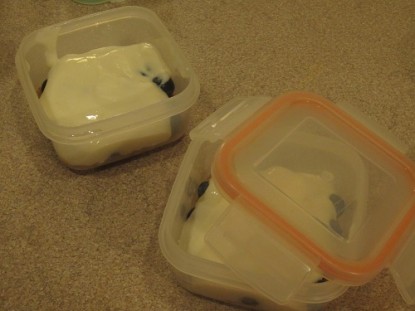 Now, if you're weird like me and a little obsessed with making everything from scratch, you can make your own condensed milk. Just put 1 cup of sugar and 1 cup of powdered milk in a blender; microwave ½ cup water and 1 tablespoon margarine or butter until boiling, then add to blender and mix until smooth.
I've tried this with Bing cherries and didn't like it as much, but I suspect it would be amazing with strawberries. I've also made this in a pie plate to bring to a party; I kept the crust amounts the same, used about 2 cups berries, then made 1 ½ times the filling in order to cover the berries well.
Get the handy printable and save it to your recipe box:
Individual Blueberry Cheesecakes
Do you have a recipe post or kitchen-related story to share on the Farm Bell blog?

See

Farm Bell Blog Submissions

for information, the latest blog contributor giveaway, and to submit a post.

Want to subscribe to the Farm Bell blog?

Go here

.