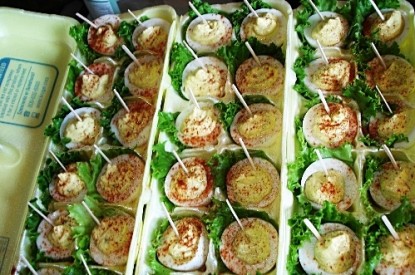 Difficulty: Easy
Servings: unlimited!
Ingredients
deviled eggs
egg cartons (well washed – I like to use the yellow ones)
lettuce or other leafy greens
toothpicks
Directions
Just make your favorite deviled eggs EXCEPT cut the eggs across the middle (instead of end to end) so they will sit well in the egg cartons. Place a piece of torn lettuce on each 'cup' before adding the egg halves. Fill egg halves (I put my yolk mixture in a baggie, snip the corner and use like a pastry bag). Insert a toothpick in each egg for ease in serving/plucking out the filled eggs. Garnish with paprika or whatever you like. Close the cartons, pop in a cooler with some ice and GO. When you open the cartons to serve, the opened cartons fit one into the other (see pic above). Cleanup is as easy as closing and tossing the empty cartons. You can fancy these up with frilly toothpicks, ruffly lettuce or other greens, etc.
Categories: Appetizers & Snacks, Budget, Crowd-Size, Eggs, Potluck, Special Occasions, Tips & Tricks
Submitted by: wvhomecanner on May 28, 2010