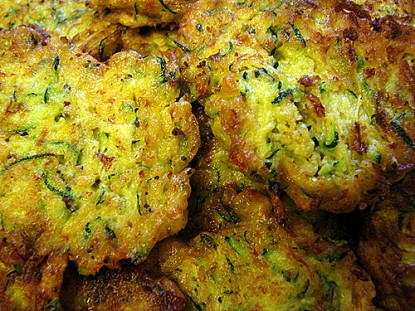 Difficulty: Easy
Servings: about 2 dozen
Cook Time:
varies
Ingredients
4 cups zucchini, shredded
3 eggs
1 cup all-purpose flour
1 cup shredded cheese (any kind you like)
1/2 teaspoon garlic powder
salt and pepper to taste
oil
Directions
Shred zucchini.
Place zucchini in a colander set in the sink or over a bowl and sprinkle with 1 teaspoon salt to draw out the moisture. Let stand for an hour then use paper towels to pat it dry, squeeze it dry, yell at it if you have to. Transfer zucchini to a big mixing bowl. Add eggs, flour, cheese, and seasoning. I like to use a little Hot Shot, too. (Hot Shot is a blend of black pepper and red pepper.)
Heat oil on medium-high in a large skillet. (I actually use bacon grease to fry these. You use what you want. I'M SUCH AN ENABLER.) Drop spoonfuls of the zucchini mixture into the skillet.
Fry, browning on both sides (about 1-2 minutes per side).
Drain fritters on paper towels. Serve with Ranch dressing or dip.
Categories: Appetizers & Snacks
Submitted by: suzanne-mcminn on June 5, 2010