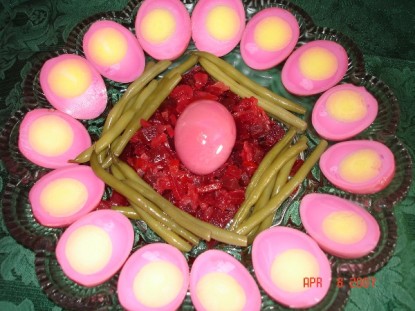 Difficulty: Intermediate
Servings: unlimited!
Ingredients
4 to 6 cans of beets
2 cups sugar
2 sticks cinnamon
1 Tbsp. whole allspice
2 bay leaves
3 1/2 cups cider vinegar
1 1/2 cups water
Directions
Make your favorite pickled beet recipe – my go-to recipe is adapted from the one from the Ball Blue Book for Beet Pickles. For pickled eggs, I use store bought canned beets. I like to use the sliced beets, but some folks prefer the small whole round beets. It makes no difference, so choose what you like. Make the pickled beets by mixing the ingredients and heating/stirring gently until the sugar dissolves. Cool to room temp.
Hard boil your eggs and shell them (and the method here on Farm Bell for Perfect Hard Boiled Eggs is fantastic)
and slip the peeled eggs into the pickled beets and brine, making sure that the beet brine covers the eggs completely. I use a one gallon glass pickle jar for this.
Refrigerate for two weeks, giving the jar a gentle shake every two days. The eggs can be eaten at any point, but are at their best when they are pink to or through the yolk.
Categories: Appetizers & Snacks, Egg Dishes, Old-Fashioned, Other Side Dishes, Pickling, Presentation, Preserving, Side Dishes
Submitted by: wvhomecanner on June 21, 2010