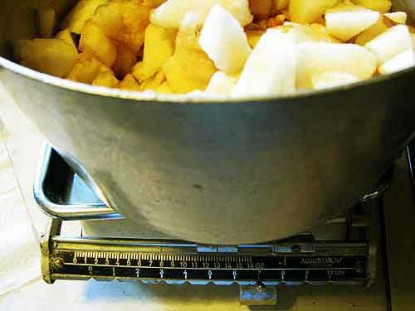 Difficulty: Easy
Servings: 3-4 pints
Prep Time:
1 hour
Cook Time:
10 minutes plus simmer time for the pears
Ingredients
6-7 pounds pears
4 cups sugar
1 teaspoon grated orange peel
1/2 teaspoon nutmeg
1/3 cup orange juice
Directions
Core, peel, and slice pears. Cook in a large pot with 1/2 cup water until soft. Process in a food mill or food processor (or just mush, which is what I did). Add, sugar, grated orange peel, nutmeg, and orange juice. Simmer slowly until mixture thickens and rounds up on a spoon. Stir frequently. Ladle hot butter into jars, leaving 1/4-inch headspace. Put on lids and bands. BWB 10 minutes.
Categories: Boiling Water Bath, BWB Jams, Jellies, Butters & Preserves, Canning, Preserving
Submitted by: suzanne-mcminn on April 5, 2011