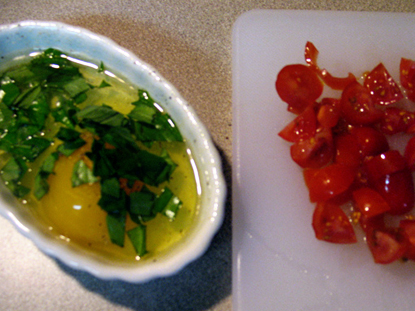 Difficulty: Easy
Servings: Easily adjustable to any amount
Prep Time:
varies, depending on ingredients
Cook Time:
12-15 minutes
Ingredients
Ingredients are PER PERSON, you can make as many or as little as you'd like.
1-2 eggs
1 teaspoon milk
1 teaspoon chopped fresh basil
1 teaspoon shredded cheese of choice
1 teaspoon chopped tomatoes
Sprinkle of salt and pepper
Be creative in your toppings…try salsa and fresh cilantro or crumbled (cooked) bacon, various kinds of cheeses, etc.
Directions
Preheat oven to 325.
Spray one ramekin per person with cooking spray. Crack 1-2 eggs into each ramekin (depending on the appetite of person eating the eggs). Sprinkle with salt and pepper. Add milk. Sprinkle toppings on top. Place in preheated oven and bake for 12-15 minutes or until whites are cooked and yolks are set.
Categories: Breakfast, Egg Dishes, Entertaining
Submitted by: citygirlfarming on April 6, 2011