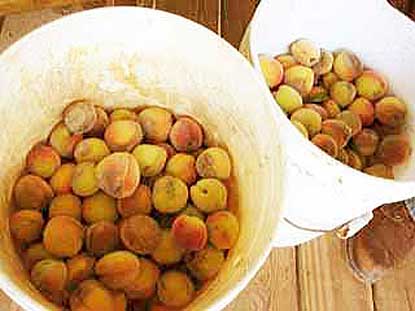 Difficulty: Easy
Servings: 5-6 half-points
Prep Time:
1 hour
Cook Time:
10 minutes
Ingredients
4 cups peeled, cored, chopped peaches
2 tablespoons lemon juice
1 package fruit pectin
5 cups sugar
Directions
Prepare your peaches. Get your water boiling in your canning pot, rack tucked inside. Boil lids in a small pan then remove to dry on a paper towel using tongs. While water is coming to a boil in your big pot, place chopped peaches in another large pot with the lemon juice. Add pectin and bring to a full, rolling boil. (Add 1/2 teaspoon butter to reduce foaming.) Meanwhile, get your sugar measured and ready. As soon as peaches, lemon juice, and pectin are at the boil, add sugar all at once. Return to boil and keep at the full, rolling boil for one minute. Remove from heat and ladle immediately into clean, sterilized jars. Place lids on top, screw on bands, and lower onto rack in your pot of boiling water. BWB 10 minutes.
Categories: Boiling Water Bath, BWB Jams, Jellies, Butters & Preserves, Canning, Preserving
Submitted by: suzanne-mcminn on April 5, 2011