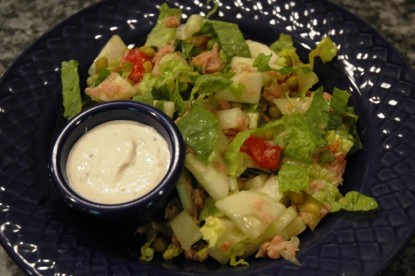 Difficulty: Easy
Servings: 4
Ingredients
Tuna and Green Pea Salad:
1 bunch romaine lettuce, chopped
2 green onions, sliced
2 yomatoes, peeled and chopped
1 cucumber, peeled and chopped
1 pouch tuna (6.4 oz)
1 small (8.5 oz) can green peas, drained (I always use Le Sueur Very Young Small Sweet Peas)
salt and pepper to taste
Homemade Ranch Dressing:
3/4 cup sour cream
3/4 cup Greek yogurt
1/3 cup mayonnaise
1 teaspoon garlic powder
1 teaspoon onion powder
1 1/2 teaspoon chopped chives
1 1/2 teaspoon chopped parsley
1 teaspoon salt
1/4 teaspoon pepper
1 tablespoon Balsamic vinegar
Directions
For the salad: Mix all ingredients and serve with homemade Ranch dressing.
For the dressing:  Combine all ingredients, whisk to blend and serve. This make a very thick, creamy Ranch with the consistency of a dip. If you like your dressing a bit thinner, you can add 1-2 cups of buttermilk (depending on the consistency you want). If you want to use fresh chives and fresh parsley, you will need to double the amounts listed. To make this low fat, just use fat-free sour cream, fat-free Greek yogurt, and light mayonnaise.  It tastes just as good.
Categories: Dips, Dressings, Lettuce & Greens, Meat Salads, Salads, Vegetable Salads
Submitted by: gardensandgarlic on May 25, 2012