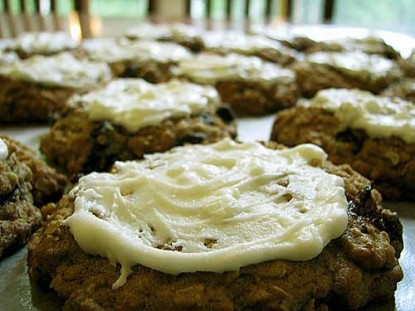 Difficulty: Easy
Servings: 3-4 dozen
Prep Time:
20 minutes
Cook Time:
12-15 minutes
Ingredients
3/4 cup butter, softened
1 3/4 cups all-purpose flour
1 cup dark brown sugar, packed
1/2 cup sugar
1 egg
1 teaspoon baking powder
1 teaspoon vanilla
1/4 teaspoon baking soda
1/2 teaspoon cinnamon
1/4 teaspoon ground cloves
2 cups oats
1 cup raisins
6 ounces vanilla candy coating OR powdered sugar icing
Directions
Place raisins in a small saucepan with enough water to cover them. Bring to a boil. Turn off heat, cover, and let sit for 15 minutes; drain. In a medium-size bowl, combine softened butter with 1 cup of the flour and the brown sugar, sugar, egg, baking powder, vanilla, baking soda, cinnamon, and cloves. Mix well. Add the rest of the flour to the mixing bowl along with the oats and raisins. Spoon balls of dough onto a lightly greased cookie sheet.
Bake 12-15 minutes at 375-degrees. How many cookies and how long to bake them will vary depending on how large you make your cookies. Let cool. Place cookies in a single layer on sheets of waxed paper.
For the icing, melt vanilla candy coating over boiling water in a double-boiler. (I like Vanilla CandiQuik.) Spread candy coating over tops of cookies. The icing will harden in a couple of minutes, allowing cookies to be stacked for storage.
If you prefer or don't have any vanilla candy coating, you can use a powdered sugar icing. (I like the vanilla candy coating best, but powdered sugar icing will do in a pinch.)
Powdered Sugar Icing:
2 cups sifted powdered sugar
1/2 teaspoon vanilla
3 tablespoons milk
(additional milk as needed)
In a small bowl, combine powdered sugar, vanilla, and 3 tablespoons of milk. Stir together. Add more milk if necessary to bring the mixture to drizzling consistency. Drizzle over the tops of the cookies. Let set before storing.
Categories: Cookies & Bars, Desserts
Submitted by: suzanne-mcminn on December 12, 2010